About Sandy Beaches of the Greater San Francisco Peninsula Area.
This article focuses on the general characteristics of sandy beaches in the greater SF Peninsula area and includes information about the fisheries that are available and shows a few pictures of typical beaches in the area. The links on this page will show you aerial views of some of them. You can take a virtual tour of all of the sandy beaches by viewing the Aerial Photos or by clicking on any link and using the CCRP web site to browse the aerial photos.

Our sandy beaches provide year around surfperch fishery. Striped bass, halibut, jack smelt and surf smelt can be found seasonally on some beaches.

The odds of finding stripers improve as you move up the coast to SF beaches - late spring to early summer. The Pacifica beaches have been the best recently. The last of the big runs were in the 1960s.

The sandy beaches vary from small beaches between rocky outcroppings (like north of Lighthouse Point, Santa Cruz ) and the series of long beaches that extends for almost 30-miles in Monterey Bay. This stretch runs from New Brighton State Beach to Monterey State Beach. Aside from river mouths and Moss Landing Harbor, you could walk and fish the entire length. Most of the river mouths dry up or are wadable during the summer. Our region includes several beaches with river or creek mouths.

The north coast of San Francisco has two sandy beaches between rocky areas however the west coast of San Francisco is almost all sandy beach (see Ocean Beach, San Francisco ). Ocean Beach faces directly west and typically has relatively large surf.

The area between San Francisco and Half Moon Bay is rocky coastline with a several sandy beaches in between rocky areas. Pacifica has the longest stretch of beaches and Linda Mar here is sheltered from southwest swells by San Pedro Point headlands. The other Pacifica beaches face west and have larger surf.

Half Moon Bay has a nice stretch of sandy beaches starting from just south of Pillar Point and continuing to Redondo Beach Road, Half Moon Bay . The Pillar Point provides a buffer to northwest swells that progressively calms the surf the closer northward you get to the harbor area. As a result, the beaches have gradual slope, fine sand and smaller surf at Pillar Point. As you work south, the slopes get bigger, with coarser sand and larger surf.

I have seen some of the most dramatic structures at Francis Beach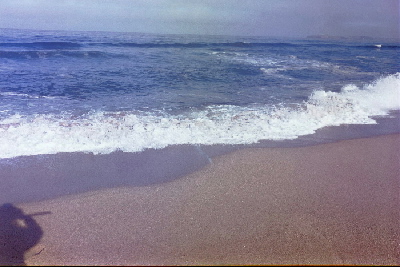 in spring and summer with troughs that are 1 to 4 feet deep at shoreline and large rips. In the picture, the drop-off is between the foam and the dark blue area and the rip is visible as a foam stream going out to deeper water. At times, wading knee deep is too deep. You have to be careful because the near shore troughs are deep and steep.

In some seasons, Half Moon Bay beaches get a decent run of surf smelt. Smelt fishermen use throw nets to catch smelt. Click to see a sequence of photos showing an anonymous fisherman's haul during the summer of 2002. These fishermen also carry striper gear because stripers sometimes follow the smelt in. It is exciting to see a smelt run but to have stripers come in on top of smelt would be awesome. The season is variable but late spring through summer might be the peak season. In 2003, Martin's Beach (a private toll access beach that is south of Half Moon Bay) had the best run in many years. If you are interested in surf smelt then Martin's would give you the best chance of netting surf smelt.

The surfperch fishery is fair in the Half Moon Bay area. There have been times in 2001 and 2002 when small perch were abundant. My first decent day fly fishing was at Dune Beach on smaller perch in 2001. Larger perch can be found in the area too. I caught a 2 1/2 lb barred perch at Francis beach in 2001. This was in a few feet of water in one of the shoreline troughs. After landing a baby perch, the next cast produced the 2 1/2 pounder, casting sideways just off shore of the feet of my fishing partner. This was the first large barred that I caught - a memorable moment! The 2002 surfperch season was not consistent and there were times when surfperch could not be found. I make a few scouting trips to the area every year to checkout the season because the water there is so nice.

The area between Half Moon Bay and Santa Cruz is also mostly rocky coastline with a few sandy beaches in between rocky areas. Most of the beaches North of Santa Cruz and face West and are affected by both Northwest and Southwest swells. Some of the beaches like 4-Mile Beach are in a cove that gets sheltered from NW swells but the surf is typically larger at San Gregorio State Beach, Pomponio State Beach, Pescadero State Beach, and Scotts Creek Beach. I believe that all of the sandy beaches have at least a fair surfperch fishery - it might be actually better with more time on the water to learn of the interactions of rocky projections with currents and sandy bottoms.

I have fished 4-Mile Beach and 3 Mile Beach and Scotts Creek Beach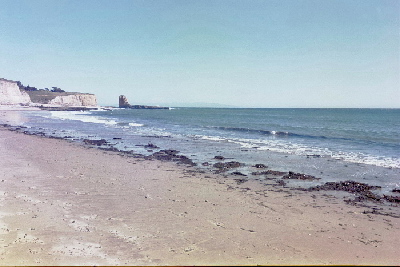 a few times in 2003 and have had decent days. 4-Mile and 3-Mile require a 10 to 15-minute hike from the road. You can get to 3-Mile from 4-Mile Beach by walking south during lower tides. 3-mile has a much smaller sandy beach but has flat rock areas from which you can cast into turbulent wash off of mussel laden areas. Small crabs are abundant there. Worms must live within the mussel beds as well. There are many rocky areas adjacent to sandy beach there. Kelp is abundant there so you have to avoid those areas and after heavy surf conditions the whole beach might be shutdown for fishing because of kelp. Scott Creek flows well during winter months but you can usually walk across with waders. The surfperch fishing for me has been fair at these beaches. The surf at Scott is larger and the beach usually has decent structure (big holes, and cuts with moving water).

Monterey Bay starts within the city limits of Santa Cruz. There are also lots of rocky areas that bound small sandy beaches. The landmass of the Santa Cruz area provides sheltering from northwest swells and has a similar effect on beaches to the south as Pillar Point has on the Half Moon Bay beaches. The beaches starting at New Brighton Beach State Park have gradual slope, fine sand and smaller surf. This picture shows a winter-view south from the road over looking New Brighton State Beach. The winter swells do reach New Brighton in spite of sheltering.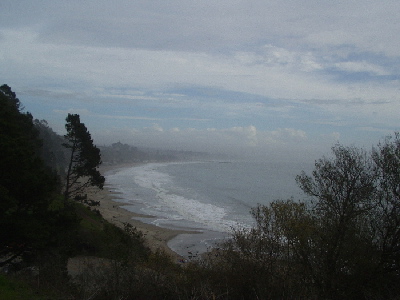 As you work south, the slopes get steeper with coarser sand and larger surf. In the winter, swell pattern has caused peak surf in the La Selva Beach and surrounding area. The winter swell energy is focused there and milder conditions can exist south of the North Manresa parking lot. In the spring, summer and fall the surf gets larger the further south you go until you approach Monterey.

In spring, summer and fall, New Brighton is typically calm as a lake. Rio Del Mar typically has small swells but can have bigger water occasionally. Seascape, La Selva, Manresa North and Manresa South progressively have the potential for larger surf and as a result have more visible beach structure. Sunset and South of Sunset all the way to Moss Landing have more exposure to swells, heavier surf and structure of larger scale.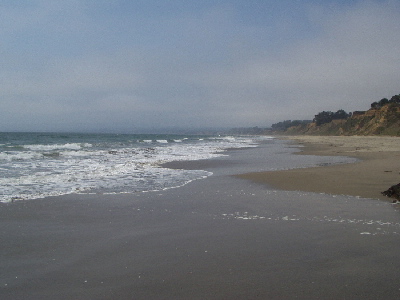 This picture shows a mid-summer view north from Manresa State Beach. You can barely see Santa Cruz in the distance at the northerly edge of Monterey Bay.

All of Monterey Bay beaches have a fair to excellent surfperch fishery and they are my favorite beaches for surfperch. I have fished certain of these beaches 1 to 3 times a week during late spring, summer and fall of 2002. You can see typical views of the kind of water that exists here on the Finding Fish page. You can find large jack smelt (12 to 16-inches) during spring, summer and fall in the surf zone and I have caught a few isolated stripers and steelhead. Jack smelt have a very small mouth but they take size-6 surfperch grubs and flies readily. Once in a while, persistent striper schools follow baitfish into the surf zone but this does not happen often enough to target them. (Carry striper flies in case opportunity strikes.) Small halibut come into the surf zone too feed on surf zone forage. The larger halibut may show up when baitfish move in close to shore. You can see a photo of a nice one at the Monterey Bay Fly Fishing web site.

This picture shows a mid-summer view south from Sunset State Beach.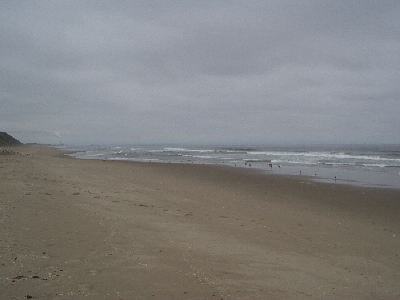 Moss Landing is at the location of the exhaust plume through the fog. You may have to click to see the larger version. The area is typically overcast in the summer.

The high biological productivity and diversity of Monterey Bay comes from the presence of the Monterey Bay Submarine Canyon. Seasonal upwelling of cold, nutrient-rich waters with solar energy causes plankton blooms to flourish. The food web extends to provide an abundance of crustaceans, baitfish and squid that feed the larger fish. In the spring, summer and fall, sandcrabs seem to be always present in large numbers on all Monterey Bay beaches.

Monterey Bay's shallow marine shelf is bisected almost perfectly by the submarine canyon. The topological map shows its location and contours. The canyon is located just offshore from Moss Landing and starts out very narrow and only 30 feet deep and extends to a deep submarine plain, 2 miles deep and 60 miles out.

Click to see this map on TerraServer Web Site.

The dynamics of beach/surf structure and their evolution are very complicated. The beaches in the sheltered areas flaten sooner and over the course of milder spring and summer conditions, sand starts to move back from deeper water to rebuild the beach and exposed beaches get longer.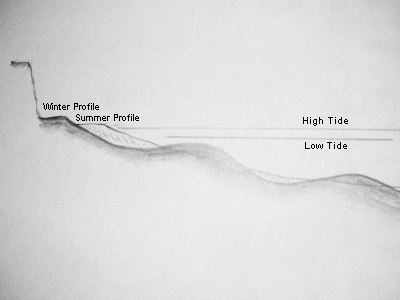 Over the course of mild summer and fall conditions all beaches get very flat and the holes, troughs, cuts and discernable moving water disappear until winter when the cycle starts over again. The effect of winter storms moves sand off the beaches again and the rebuilding process starts over.

A tremendous amount of sand is moved seasonally. Sand is transported to shore and away from shore and also along the shore by longshore currents. A significant part of the sand comprising dry sandy berm in the warm months may be transported off-shore to form multiple longshore bars. As beaches rebuild, near-shore holes, troughs, cuts and rips may form and prevail until the mild summer/fall conditions fill them up and flaten the beaches. The diagram shows the effects of summer and winter swell patterns on beach profiles.

The dynamics of sand movement are dependent on:

Swell sources
Swell height
Swell direction
Swell wave length (or period)
Beach slope and compass-orientation to swell sources
Sand grain size and sand permeability
Bottom topology and characteristics (soft / hard)
The predominant swells in the winter are from the northwest and west. Spring is a transition with early southern swells bumping into late winter swells. In the summer, we have long flat spells with southern hemisphere swells getting through occasionally. Southwest swells dominate the summer. Fall brings a transition between the flat summer doldrums with late southern swells and early winter swells from the northwest and west.

The wave height divided by the wavelength gives the slope or steepness of the wave. Higher slope waves have greater ability to move sand. With more frequent waves, the energy dissipated against the beach is higher. Beach slope and sand grain size are just a result of the characteristics of wave pattern hitting a beach. Sand grain size is usually uniform because of the sorting action of waves. Finer sand is associated with shallow slope beaches and coarser sand with steeper beaches. In the swash zone (where water surges up and backwashes back to deeper water), sand is carried in both directions. Permeation provides another return path for water and it reduces the backwash current. Bottom topology interacts with the swells and alters direction and size. Soft bottoms shift and harder bottoms change more slowly.

The USGS image (from Microsoft's Terraserver) shows the Monterey Bay coastline from the south edge of New Brighton Beach south past Rio Del Mar on August 27, 1993. Note that there might be more then one swell but the swells are coming from almost the same direction - west-southwest. Note also that they are coming at an angle to the shoreline causing a longshore current to the south-east along shore. You can go to the Terraserver site by clicking on the link below the image and use their navigation tools to drill down to more detail or to move around or to switch to view a topographical map of the same region.

Click to see this image on TerraServer Web Site.

This image shows Monterey Bay around the Sunset Beach area on June 12, 1993. It looks like there are at least 3 swell sources here: southwest, west and west-northwest (approximately). These roughly align up parallel to shore as they approach it and the waves interact causing larger waves when they are in phase and lower waves when they are out of phase. Winter longshore currents (to the south-east) might be reversed or as least slowed down due to summer swells.

Click to see image on TerraServer Web Site.

I will be updating these pages as I get more experience with other beaches. Please send information on beaches if you have experience or find inaccuracies on this page. Another article (in the future) will cover waves, beaches and their interactions that create moving water and beach structure.

Notes:

1. The maps and images from Microsoft's TerraServer are in the public domain and made available by the U.S. Geological Service (USGS).

Questions or Comments Contact:
Glenn Yoshimoto
glenn@zenflyfishing.com
Los Gatos, California



zen fly fishing home

Last Change: February 23, 2003

This page &copy Copyright 2003, Glenn Yoshimoto